As a homebuyer, knowing how supply and demand impact your home's purchase price will help you understand current and future cost expectations. It is no secret the housing market shifted during the pandemic and set off unprecedented aftereffects.  
We are still feeling those impacts today with a high demand for homes in most areas, despite the lean housing inventory levels and the continued uptick in mortgage rates.  This can leave very little negotiating power for today's buyers. The prediction is that the housing market will eventually stabilize as supply and demand level out, however, experts say it is likely that housing costs will remain elevated in the near term.
Microeconomic factors like consumer confidence and employment rates also play a role in the housing market's ability to recover.  With all this, now is still a good time to buy a house. Let's get into it…
Mortgage Rates and Payments 
According to the National Association of Realtors, as of January 2022, the median existing home's sale price was $350,300, an increase of over 15%. Interest rates have been rising and this is having a slight adverse effect on demand.
These facts continue to fuel a record number of bidding wars for houses nationwide. The average monthly mortgage payment is up about 25% year-over-year and is an indication of the rapidly rising interest rates. Regardless, the demand for housing remains strong. Particularly the suburban, single-family homes versus condominiums, apartments, and urban housing.  
Freddie Mac indicated that at the beginning of the year, the average rate on a 30-year fixed home loan was 3.22%. It hit a record low of 2.65% in January 2021 and spent more than half the year under 3%. It's important to note that rates are still lower than the average rates we saw only 15 years ago. This is a good sign for consumers in the market to purchase a home.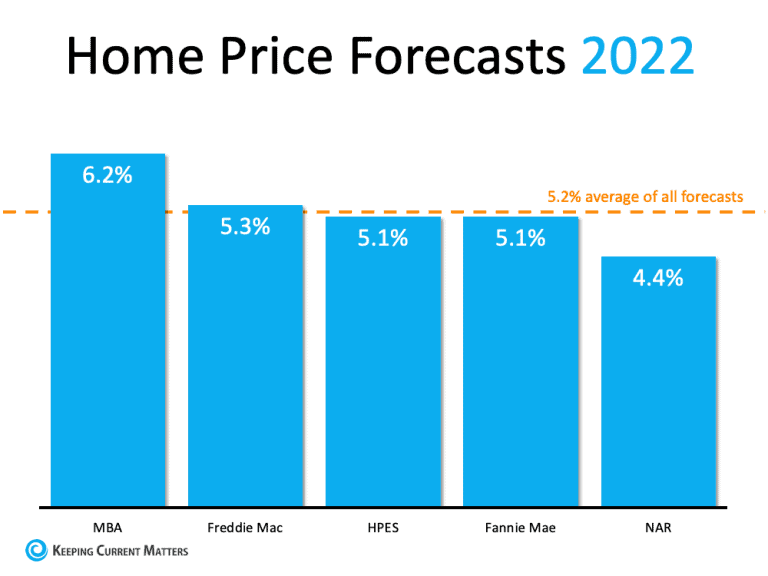 Five major mortgage corporations show their forecasted home prices, indicating ongoing increases through 2022.
Summary 
Bottom line, as more houses are available in the market, buyers should see some salvation and regain some of their buying power. As inventory increases, housing prices typically go down.   Understanding the current housing market conditions is an excellent way to prepare yourself for purchasing a home. Since the housing market is cyclical, serious buyers should consider acting swiftly to lock in rates prior to them continuing to rise.
We Are Here For You
We are here to answer all your questions. Connect with one of our mortgage lending experts today and let us help you work through this competitive market. In the past five years, we have helped 10,000+ buyers just like you navigate their home buying journey, and we are ready to help you too!
This information is for informational purposes only and is intended to provide general guidance and does not constitute legal, tax, or financial advice. Each person's circumstances are different and may not apply to the specific information provided. You should seek the advice of a financial professional, tax consultant, and/or legal counsel to discuss your specific needs before making any financial or other commitments regarding the matters related to your condition are made. 
References